Orange Marinated Grilled Flank Steak Recipe
Taco Night with Orange Marinated Grilled Flank Steak
We are a family that just LOVES our tacos & burritos. Most people have heard of Taco Tuesdays….. we take that to a new level. We enjoy taco Monday, taco Tuesday, taco Wednesday, taco Thursday…. you get the picture. This Orange Marinated Grilled Flank Steak is one of our favorite ingredients for our tacos.
When it comes to making Mexican food, we definitely do not mess around. Everything is made from scratch including the tortillas, beans & rice. The marinade is a tasty mix that includes garlic, onion flakes, lime juice, fresh orange, and a touch of honey. You can easily customize this marinade to your taste. You like it spicy? or Sweet? Add some cayenne pepper, more or less garlic, increase or decrease the amount of honey. This process is a starting point for you to create your own master recipe.
Marinate the Flank Steak
The next step is to combine both the marinade, and the flank steak into a zipper bag, or large covered bowl and place it in the fridge for at least 2 hours. The longer the better for the flavors to infuse nicely into the steak. We have also done this faster and only marinated for about 20 minutes and it still turned out great.
This is a great recipe for a make-ahead camping meal. Package up the meat and marinade before you leave and throw it in your cooler for an easy meal when you arrive at camp. The orange marinated grilled flank steak recipe is so versatile. This will also work well for a premade freezer meal. Just thaw and place it on the grill.
On the Grill: Orange Marinated Flank Steak
After your steak has been marinating for a couple of hours, remove it from the fridge, (and the bag) and place it on your pellet grill or bbq. We like to cook it on each side for about 15-20 minutes at 350, then flip it over and let it cook for another 15-20 minutes depending on how you like your meat. We like ours cooked medium to medium-well done. Others love their meat more on the rare side. If that is the case, reduce the time per side to your liking.
We just love our Country Smokers' portable pellet grill. We use it almost daily at home and throw it in the back of the jeep when we go out exploring and camping. That looks so yummy, you can almost smell it from here.
The grill gives a slightly smokey flavor to this recipe that cannot be beaten. We use the Pit Boss Competition blend in our pellet grill. These pellets give a robustly smoky flavor to burgers, steaks, chicken & even make hot dogs taste like they were cooked by a genius chef.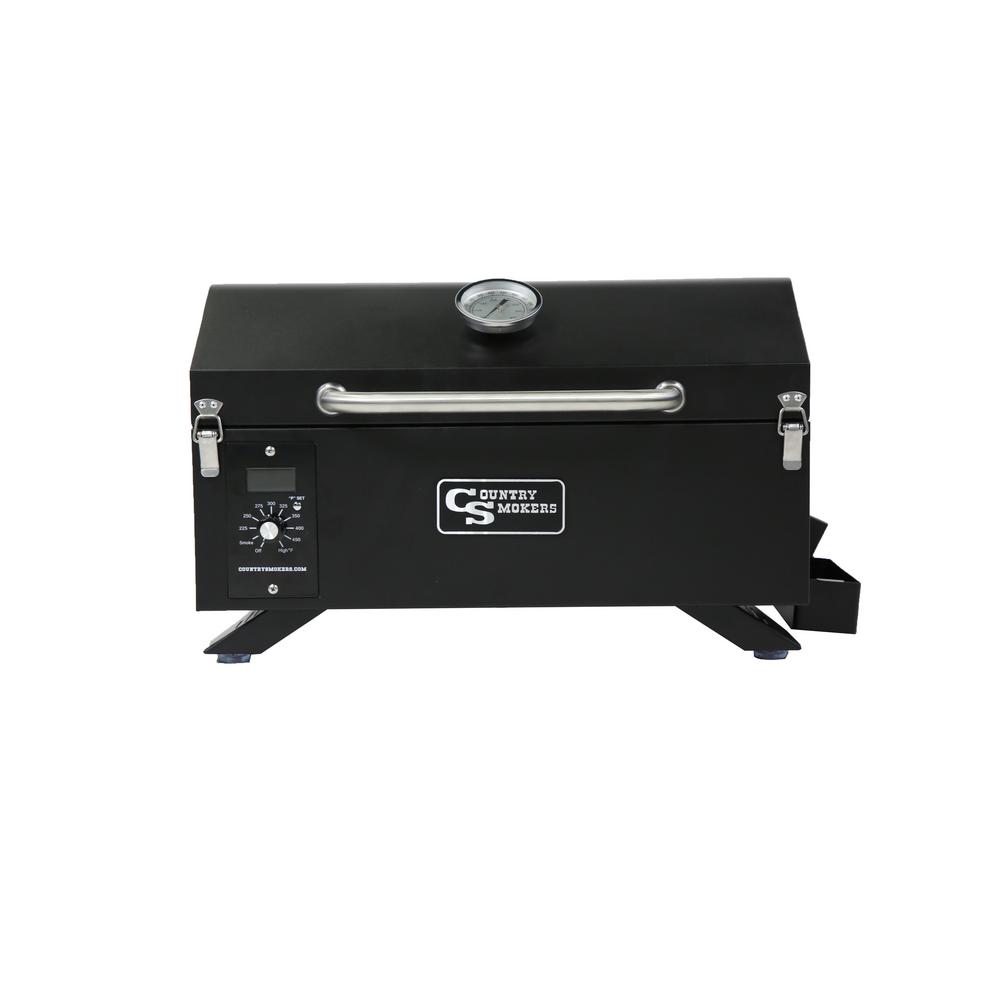 Now doesn't that look delicious!
Right after we removed the steak from the grill, we quickly wrapped it in foil and let it rest for about 5-7 minutes before slicing. Homemade corn tortillas are the perfect addition to this grilled flank steak.
A Little about the Homemade Tortillas
These homemade corn tortillas could not be easier to make. Just mix the Masa with water and divide it into balls. Then use a tortilla press similar to this one to smash the balls into tortillas. It is easier to line the press with plastic wrap to keep the dough from sticking.
Most of you should know by now that we LOVE our cast iron pans. We have been making homemade tortillas for years. I find that these flat cast iron griddle pans are perfect for cooking tortillas.
No oil or butter is needed to cook these. Just head your pan to medium / medium low and place your pressed dough on the pan. Cook on each side for about 30-60 seconds until it starts to brown like the image below, then flip and repeat on the other side.
We also love to serve it with salsa, homemade beans, and rice. We will save that recipe for another day. Let us know if you just have to have the recipe in the comments below and I will get started on sharing it with you.
Orange Marinated Grilled Flank Steak
This tasty flank steak recipe is perfect for tacos, burritos, salads and sandwhiches.
Equipment
Country Smoker Grill / BBQ
Ingredients
Orange Marinade
1/3

Cup

olive oil

extra virgin

1/4

cup

red wine vinegar

1

large orange, peeled

(juice & pulp)

2

tbsp

lime juice

1

tbsp

honey

1

tbsp

dried onion flakes

1

tsp

black pepper

1

tsp

chili powder

1-2

cloves

fresh garlic

1

tsp

paprika

1

tsp

pink Himalayan salt

or other salt

1/2

tsp

cumin
Instructions
Combine all orange marinade ingredients into a medium size bowl. Stir to combine.

Place the flank steak into a plastic zipper bag or bowl. Add the marinade to the container and coat steak completely. Remove air from bag and zip closed or cover bowl with a tight fitting lid, plastic wrap or foil. Place in the refrigerator for at least 2 hours.

After about 1 hour and 45 min, start your grill or bbq and let it heat up to 350 degrees.

Remove the flank steak from the fridge, place the steaks onto the heated grill. Cook 15-20 minutes per side. (Less if you like it rare)

Flip the steaks and continue cooking for another 15-20 minutes. You can cut into the steak to see if it is done to your liking. The internal temperature should be at least 130-135 degrees for medium rare and 145 degrees for medium.

Remove the steak from the grill and wrap in foil. Let it rest for 7-10 minutes.

Slice the steak into 1/4 inch pieces.
Please follow and like us: